Welcome to Mogasheen Resort
Mogasheen Resort is a Traditional Wisconsin Year-Round Resort. Whether you are a large or small group, honeymooner or retired couple, or a young active family, you will find activities for everyone, including your pet and cottages that are clean, cozy and both well-maintained and well-equipped.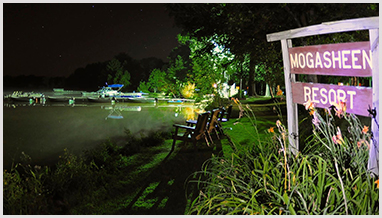 This resort in Northern Wisconsin offers comfortable accommodations with Lake Namakagon right outside your front door. Located in the Cable Area that is known for having the 'best trails in the U.S'. The 850,000 acre Chequamegon-Nicolet National Forest becomes the mecca for all things trail related. Hiking, mountain bike, ATV, snowmobile, snowshoe and cross country ski trails create an intertwining trail system that is second to none. Bayfield County alone boasts 600 miles of groomed snowmobile trails, 10 X-country ski trail systems ranging for beginner to expert, 300 miles of marked and mapped bike routes maintained by CAMBA, 180 miles of designated ATV trails and numerous incredible hiking trails.
The twelve lakeside vacation cottage, cabin and home rentals offer lake access for fishing, boating, kayaking, canoeing, pontoon and swimming. This four- season family vacation resort is equipped with indoor heated
swimming pool, sauna and game room. In addition, a public guest area with fireplace, TV and WiFi for those that love the social networking ambiance.
Vacation & Stay at the Best Little Resort in Northern Wisconsin!